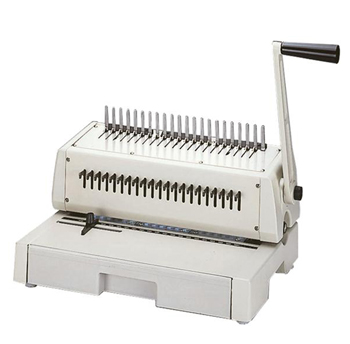 Features
Punches 5,000 sheets/ hr up to 12" or 21 holes and binds 250 books/ hr up to 2" thick
All metal construction
4-position punching depth adjustment
21 disengageable dies
Hollow ground dies
2 year warranty
Comb spreader controls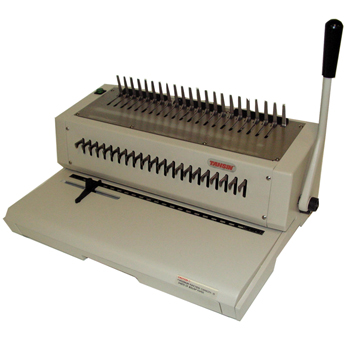 FEATURES
Punches 10,000 sheets/ hr up to 12" in length and binds 250 books/ hr up to 2" thick
Push button punching operation
All metal construction
7 disengageable dies
Adjustable depth margin.
1 year warranty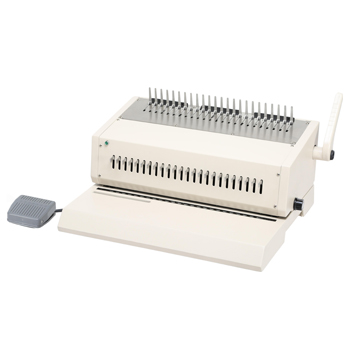 FEATURES
Punching 15,000 – 20,000 sheets/ hr up to 14" or 24 holes and binds 250 books/ hr
Automatic foot pedal control for punching
4-postion punching depth
Adjustable punching from 1 – 24 holes
All metal construction
Hollow ground dies
1 year warranty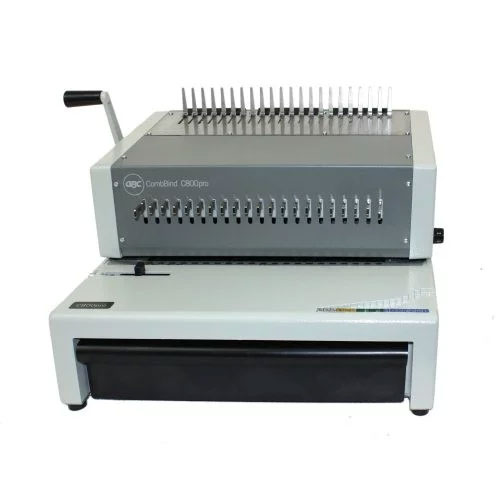 Features
Formerly the Ibico Electric Punch/Bind — EPK21
For books up to 12″ in length.
Binds documents up to 425 sheets (2″).
Production rate: Electric punches up to 25 sheets per punch.
4-position punch margin guide setting.
Foot pedal punch operation.
Warranty: 1 Year Manufacturer Warranty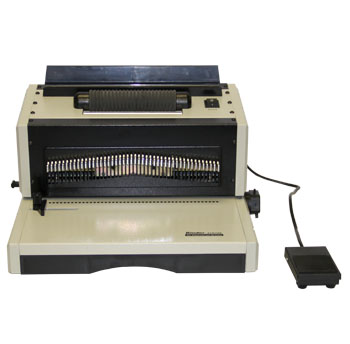 FEATURES
Punch type: Coil
Punch method: Electric
Max. punching capacity: 28 sheets
Max. binding capacity: 220 sheets
Hole distance: 6.35mm
Max. punch length: A3
Paper load: Horizontal
Usage: Moderate
Disengageable pins: Yes
Punch depth control: Adjustable
Edge guide: Yes
Coil binder: Electric inserter
Net weight: 53 lbs
Gross weight: 56 lbs
Shipping dimensions: 21" x 19" x 14"
Warranty: 1 year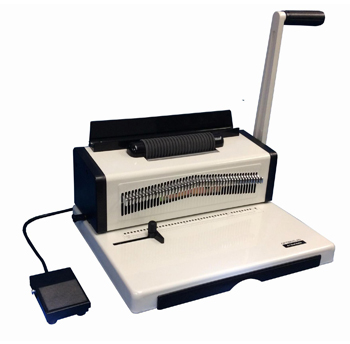 FEATURES
Punching 15,000 – 20,000 sheets/ hr up to 14" or 24 holes and binds 250 books/ hr
Automatic foot pedal control for punching
4-postion punching depth
Adjustable punching from 1 – 24 holes
All metal construction
Hollow ground dies
1 year warranty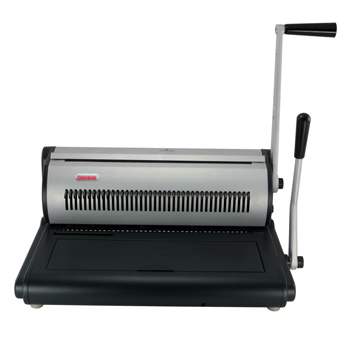 FEATURES
2-handle manual twin loop wire punch & bind machine
Punching rate: 5,000 sheets/hr
Binding rate: 250 books/hr
4-position punching depth adjustment
Built-in wire holder
Concealed wire closer
Open-ended for punching documents larger than 14"
Heavy-duty, all-metal construction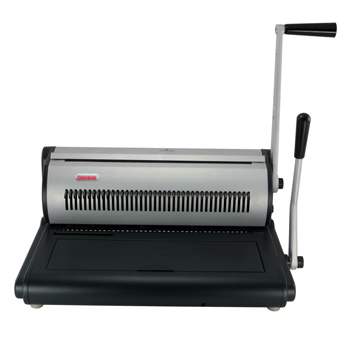 FEATURES
2-handle manual twin loop wire punch & bind machine
Punching rate: 5,000 sheets/hr
Binding rate: 250 books/hr
4-position punching depth adjustment
Built-in wire holder
Concealed wire closer
Open-ended for punching documents larger than 14"
Heavy-duty, all-metal construction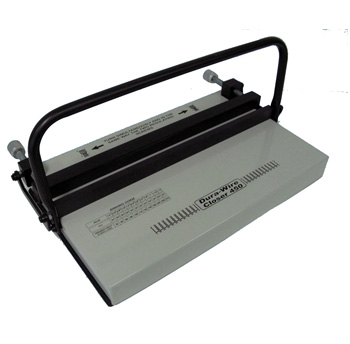 FEATURES
Max. 1-1/4" diameter wire loop closer
Compatible w/ standard wire punching formats – 3:1 & 2:1
Wire binding guide
1 year warranty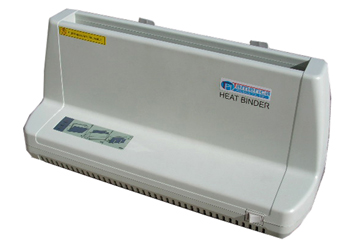 FEATURES
Durable plastic shell
Easy operation w/ buzzer & indicator light
Built-in cooling rack for increased performance
Max. spine width: 1"
Max. spine length: 11.8"
Binds multiple documents at the same time up to 1″ total thickness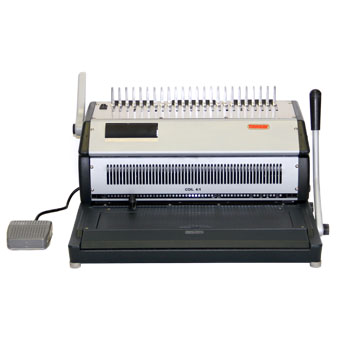 FEATURES
Shipping dimensions : 22.2" x 27.4" x 14.0" (56.3 cm x 69.6 cm x 35.9 cm)
Net weight : 95.9 lbs (43.5 kgs)
Shipping weight : 102.1 lbs (46.3 kgs)
Production rate : Punching 5,000 sheets/hr Binding 250 books/hr
Punch capacity : 20 sheets/punch
Punching & binding length : 14" (35.6 cm)
Interchangeable die sets : Plastic comb, 3:1 & 2:1 wire, 4:1 coil
Construction : All metal
Disengageable punch pins : Yes
Depth adjustment : Yes
Side margin control : Yes
Built-in comb spreader : Yes
Built-in wire holder : Yes
Built-in wire closer : Yes, concealed in front compartment
Built-in electric coil inserter : Yes
Foot pedal punch control : Yes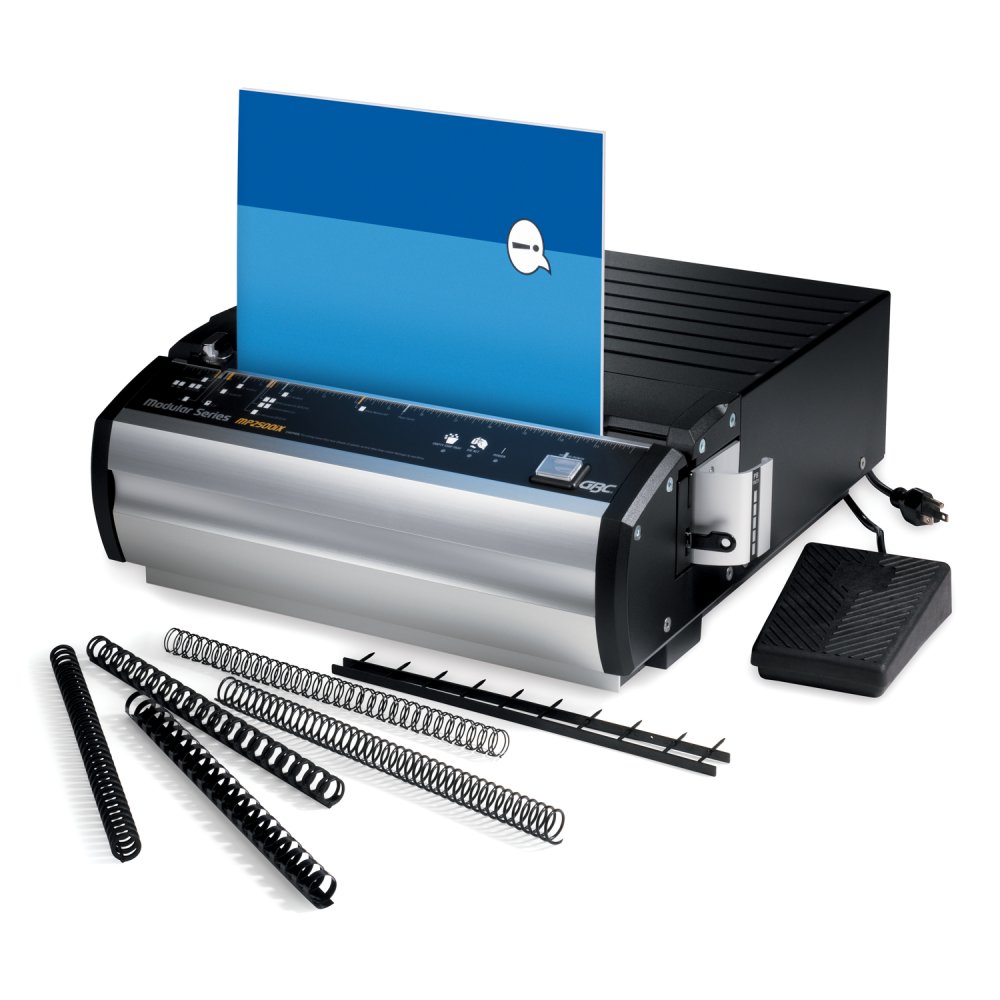 FEATURES
Interchangeable die sets (available separately) for ultimate versatility
Electric push-button or foot-pedal operation
Automatic reverse to prevent paper jams
Adjustable paper alignment guide
Open-ended throat for punching odd-sized sheets
Extra-large drawer for paper chips
Features
Punch type: Coil, comb, 2:1 and 3:1 wire
Punch method: Electric
Max. punching capacity: 30 sheets (20# paper)
Max. binding capacity coil: 220 sheets
Max. binding capacity comb: 500 sheets
Max. binding capacity wire: 120 sheets 3:1, 250 sheets 2:1
Paper load: Horizontal
Usage: Heavy
Disengageable pins: Yes
Punch depth control: Adjustable
Edge guide: Yes
Binding: Comb spreader, wire closer and coil inserter
Net weight: 95 lbs
Warranty: 1 year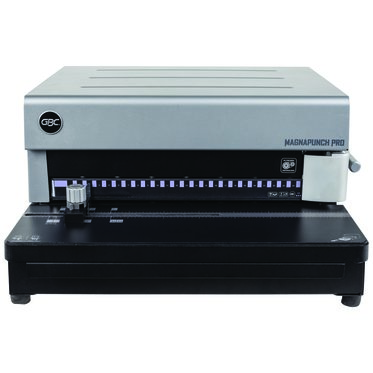 FEATURES
Sleek, metal cover offers a clear view of the die set ruler and pin location decal for easy alignment
Sturdy edge guide features an adjustable sliding knob/screw system to accurately adjust paper size
Large chip tray collects paper chips from up to 40,000 sheets so you can empty the tray less often
Half-second punch cycle with flywheel technology allows you to complete more jobs in less time
Punches up to 49 sheets at once and up to 49,000 sheets/hour depending on punch style
3-way switch (ON/OFF/ON) lets you control the punch with the trigger switch or hands-free foot pedal
Features a locking die set system with integrated safety switch, 13 die sets (including a wire calendar die) and
compatibility with Magnapunch 2.0 dies
Easy-access punch pins can be quickly adjusted to punch different paper sizes
Punches sheets up to 14″ for most die patterns–open throat accommodates larger sizes in two-step process
Includes a 3 year warranty. 18 1/2″ x 10 1/2″ x 19 1/2″ in size.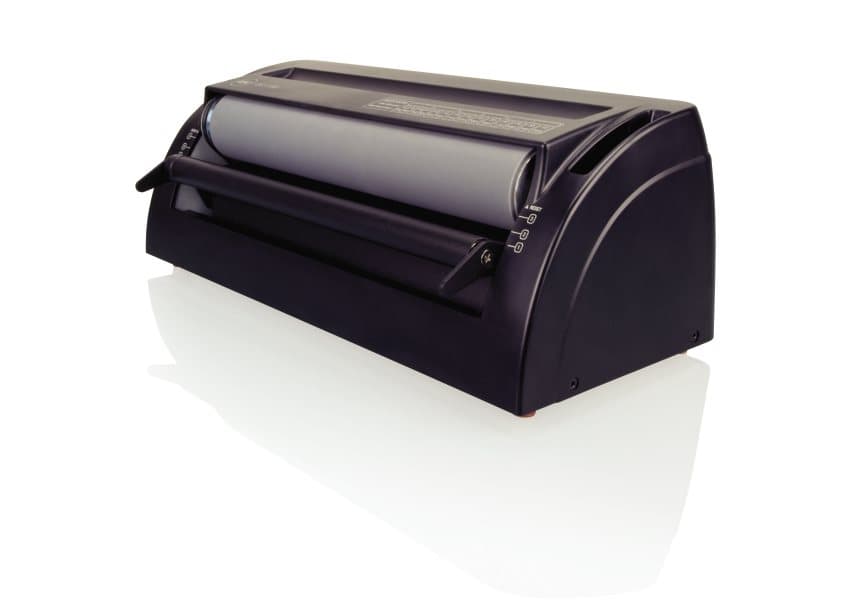 Create impressive presentations with this Color Coil
®
 inserter. The new CC1700 is the perfect solution for short runs or occasional use allowing you to quickly and easily create professional looking documents. Dual drive rollers achieve precise coil insertion and provide superior control when binding. Choose from 1 or 3 years of service.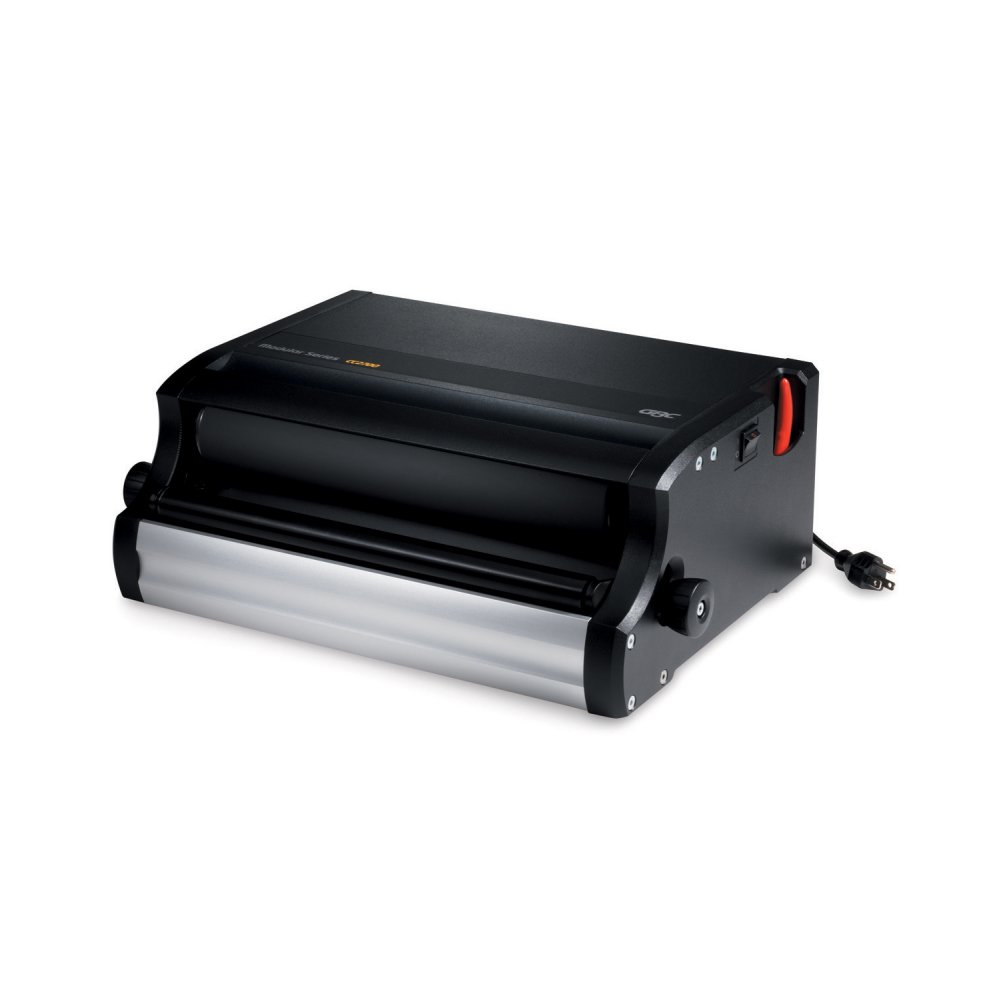 Features
Electric finishing for increased productivity
Built-in storage for spine cutter/crimper hand tool
One crimper hand tool included
Binds sheets up to 12″
Dual-action rollers for increased speed and accuracy
Additional crimper hand tools sold separately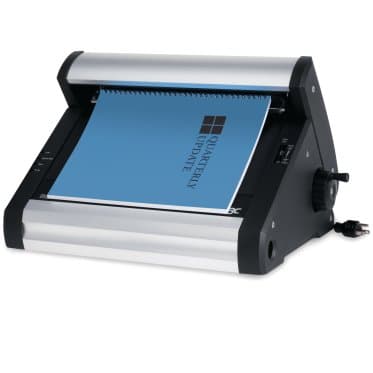 Features
LED guide indicators
Adjustable knob for fine-tuning spine closure
Wire holder for easy loading of spines
Angled surface for easy loading and paper alignment
Spine-size settings for faster operation
Binds documents up to 12″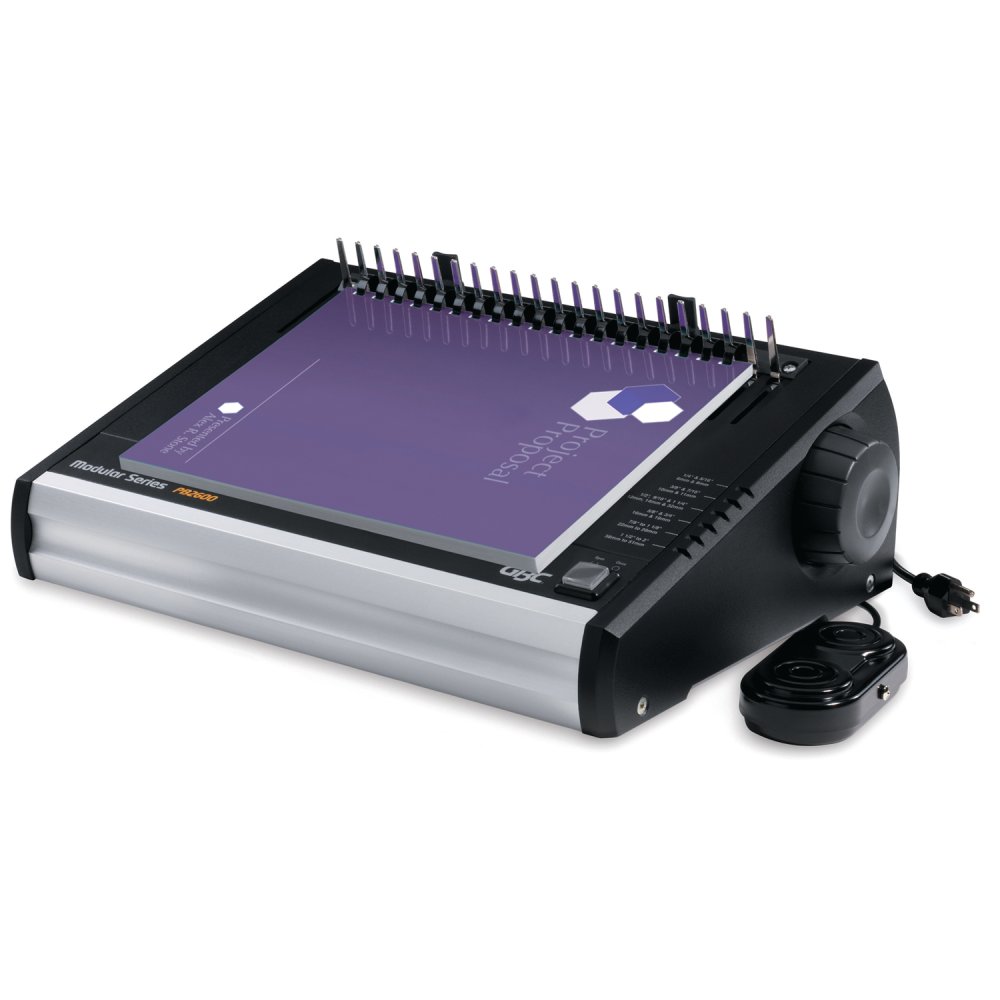 Features
LED spine-size indicator
Incremental adjustable knob for fine-tuning while you bind
No-flip spine stopper holds large spines in place
Angled surface for easy loading and paper alignment
Standard push-button and foot pedal operation
Binds oversized documents up to A4 sizes
Velo Binding / Security Binding
Securebind™ (Velo®) Binding Machine V2000-Pro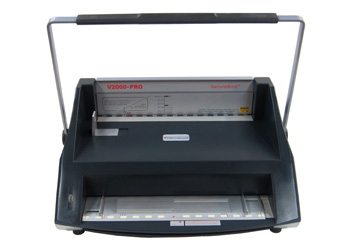 FEATURES
Compatible with VeloBind® Strips
Can do 1" & 2"!
With easy to use guide for letter & legal size sheets
1 year warranty
Securebind™ (Velo®) Binding Machine V3000-Pro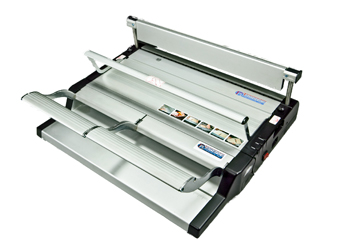 FEATURES
2-Handle Manual Punch Hot Knife Cutting System
Compatible with VeloBind® Strips.
Can do 1", 2" & up to 3" thick documents!
1 year warranty
Rolling Binding Storage Cart 
Spacious work top
Heavy duty rigid metal construction
6 easy sliding drawers for binding elements storage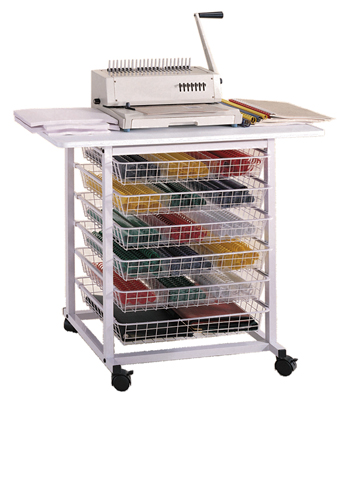 You can trust us with your business.
We don't want to just sell you equipment. We want to ensure quality products for your school or business.